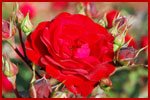 Living with Miracles
A new "how-to" handbook providing a common-sense guide to studying the Course. Preview and order here.
Understanding A Course in Miracles
A comprehensive guide to the most popular & provocative spiritual path of modern times. Read the Introduction and order here.
Love After Life
A fictional exploration of ACIM themes in a story that novelist Tim Farrington calls "a genuine metaphysical thriller that seizes the soul and keeps you up until midnight turning the pages."
From the Mercy Chair
A delightful collection of original poems,
drawings, and video readings by Mary Feagan

Stay-at-Home Courses
Accelerate your study of ACIM, forgiveness, and more with stay-at-home courses and coaching from a 25-year veteran and expert researcher.
matters of course
The first and only "elevated gossip column" for students of the Course worldwide. Catch up on all the latest scuttlebutt... and its deeper meanings!
ACIM Resources
Links to a host of ACIM-related sites, including
teachers, worldwide study groups, and commentaries by scholars, skeptics, and critics