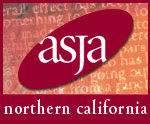 Winter 2013 Networking Meeting

The latest networking meeting of the NorCal chapter of ASJA was held in mid-December 2013 at the Napa home of chapter president Patrick Miller and his partner Sari Friedman. About 25 writers of all descriptions attended this open meeting, sharing a spectacular potluck brunch and sharing notes on their current and ongoing work.

We like to hold several of these networking meetings yearly, as they've proven to be the best format for sharing inspiration, ideas, and professional connections.

If you can host a potluck event for 12-16 people in or near the city, please let Patrick know at info (at) fearlessbooks.com.
________________________________________
About ASJA


Founded in 1948, the American Society of Journalists and Authors is the nation's leading organization of independent nonfiction writers. Our membership consists of more than 1,100 outstanding freelance writers of magazine articles, trade books, and many other forms of nonfiction writing, each of whom has met ASJA's exacting standards of professional achievement.

• To its members

,

ASJA offers extensive benefits and services focusing on professional development, including regular confidential market information, meetings with editors and others in the field, an exclusive referral service, seminars and workshops, discount services and, above all, the opportunity for members to explore professional issues and concerns with their peers.

• To independent writers

, ASJA is a primary voice in representing freelancers' interests, serving as spokesman for their right to control and profit from uses of their work in the new media and otherwise. Join us.

•

To editors and others

,

ASJA offers ready access to writers proven in the marketplace, capable of producing articles, books, brochures and scripts on any imaginable subject. Click here for ASJA's Freelance Writer Search.

•

To the entire publishing community

, ASJA brings leadership in establishing professional and ethical standards, and in recognizing and encouraging the pursuit of excellence in nonfiction writing. ASJA headquarters are in New York City. The Society has active regional chapters in Northern and Southern California, the Rocky Mountain area, and Washington, DC.
---

C L I C K T O :
HOME • BOOKS from Fearless • LITERARY SERVICES