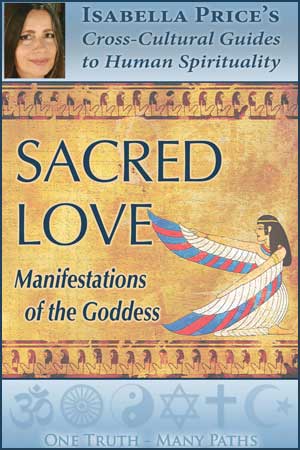 "Isabella Price has written an important book for the emergence of a balanced and embodied consciousness, highlighting the importance of the Divine Feminine in the dawning of a new culture. With solid research into history and mythology, and well-grounded in Integral Theory and other modern philosophies, this book is an essential bridge that weaves the fabric of reality back into its essential wholeness. True integration combines masculine and feminine in a way that understands the contribution of both. This book embodies that understanding in a style that is fresh, rich, and immediately accessible."
— Anodea Judith, Ph.D., author of The Global Heart Awakens; Eastern Body, Western Mind; Creating on Purpose
At the dawn of religion, God was a Woman. The Divine Feminine is known by innumerable names and symbol-rich manifestations across the world's cultures. Throughout the ages the Goddess has been honored and worshiped as the Virgin Mary, Isis, Inanna, Asherah, Diana, Kuan Yin, Kali, Oshun, Athena, Pele, Sarasvati, Demeter, and White Buffalo Calf Woman to mention just a few…
Many conceptions of the Goddess are mysterious and seemingly paradoxical. Yet at its source the Divine Feminine is one. Sacred Love: Manifestations of the Goddess Across World Cultures takes you on a fascinating and, at times, surprising journey into the enduring essence of the Divine Feminine.
Listen to a BlogTalk interview on the Sacred Feminine
with Isabella, conducted by Karen Tate
(conversation begins at 17:50).
AND AVAILABLE AS AN E-BOOK FROM THESE DIGITAL RETAILERS:
SELECTED EXCERPTS
An Overview of Goddess Worship
The Goddess is the life-giving Paleolithic Mother, the Neolithic Bird and Snake Goddess, or the "Lady of the Beasts" flanked by lions. As earth, the Goddess embodies all life; she is immanent or indwelling in all of creation. She is the river, tree, leaf, flower, fur, stone and rock. As the great matrix of creation, she governs the elemental forces of nature. She is also the celestial Goddess, the morning and evening star, or the moon that symbolizes women's cycles. As the moon, the Goddess has three aspects: As she waxes, she is the maiden or virgin; full, she is the mother; and as she wanes, she is the crone or wise woman. Yet just as everything originates from the Mother Goddess… in the end, everything returns. Birth, growth, decay, and death are sacred stages within the life cycle. In her fierce and terrifying manifestations, the Goddess is the Dark Mother who dances on the cremation grounds and appears at crossroads and pivotal junctures in our lives…

Mary Magdalene: Forgotten Bride of Christianity?
Mary Magdalene embodies another aspect of the Divine Feminine. As a provocative figure who has been the subject of countless controversy, Mary has been portrayed as the "apostle of the apostles," the "forgotten bride" of Christianity, and the "redeemed sinner" who exemplifies Jesus Christ's mercy… Hollywood sees her has a combination of lust, loyalty, prostitution, repentance, madness, seduction, beauty, and sainthood. For nearly two thousand years she has been the mysterious and silent woman in the shadow of the iconic image of Jesus crucified…Yet over the last few decades serious research has been conducted to clarify some aspects of her role and function in early Christianity. What do we know today about Mary Magdalene? And what may be said about the nature of her relationship to Jesus in the light of scriptures that have been recently discovered?

The African Goddess Oshun – Dancing River of Life
The African goddess Oshun is the nurturing mother, fierce protectress, powerful leader, wise counselor and diviner, healer, giver of life and fertility, feminine seductress, beautiful enchantress, and the mother of the African fresh waters – to name the most important of her roles and functions within the cosmology and religious beliefs of the Yoruba people of present-day Nigeria. The worship of Oshun provides also interesting insights into the concept of organized sisterhood in Yoruba culture and society… When the Yoruba were enslaved in great numbers and shipped to the plantations of Cuba and Brazil in the early nineteenth century, they brought their African religion with them. They found ways of venerating their deities in Christian churches. Evidence exists that the Cuban perception of Oshun as a saint – in addition to her sensual and flirtatious ways – was likely influenced by the concept of the Virgin Mary in Roman Catholicism…
EDITED BY SARI FRIEDMAN
FOR FEARLESS ASSISTED PUBLISHING

LEARN MORE AT THE ONE TRUTH, MANY PATHS WEBSITE