September University

Summoning Passion for an Unfinished Life
by Charles D. Hayes
Autodidactic Press
ISBN 9780962197970
289 pages, paperback
$16.95
"A high-tide demographic, a huge force of seniors, is set to come ashore," forecasts Charles D. Hayes in his latest manifesto of lifelong learning, "bringing with them a special brand of wisdom available only through the process of aging." The question is whether society will be ready to pay attention. Our youth- and profit-oriented culture has historically tended to cast aside the brains-and-experience wealth of its elders, relegating them to death-in-waiting centers where their inherent human worth is devalued because they are seen as no longer contributing to an often gross national product.
But Hayes is not a social revolutionary so much as a Pied Piper for individual self-enrichment. The very name of his press has promoted the ethos of the self-taught since its founding in 1987. Quoting everyone from Nietzsche to Emerson to Karen Armstrong, September University argues persuasively that getting older is no reason to stop exploring the meaning and potential of life. It's worth noting that Hayes hails from Wasilla, Alaska, and has been "going rogue" with style and independent erudition for years before Sarah Palin somehow made being dense and self-serving into populist campaign issues.
"I offer my own life experience as evidence that blue-collar folks can break the intellectual barrier and appreciate a life of the mind as deeply as anyone who ever tread among the halls of our Ivy League universities," writes Hayes. "The buried truth of the matter is that all of us are more altruistic than corporate elites would have us believe, and we are also starved for learning without pretension." September University is a clarion call not just for Baby Boomers to claim their mantles of wisdom, but for common folks of all ages to recognize that taking charge of one's own intellectual assets is the best way to bring "power to the people."—P.MILLER • 1-1-13

---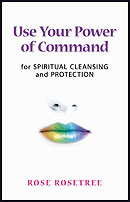 Use Your Power of Command
for Spiritual Cleansing and Protection
by Rose Rosetree
Women's Intuition Worldwide
ISBN 978-1-9352140-3-8
256 pages, paperback
$14.95
The warm, witty and distinctive Rose Rosetree explains how to scrub off your astral grime and give yourself the ultimate spiritual energy makeover in her newest book. Reading this work is as close as you can get to having your own in-person session with Rose Rosetree to get spiritual energy cleansing, protection from psychic attack, and quite a bit of instruction (including numerous explanations, scripts for communicating with spiritual entities and detailed metaphysical exercises).
What I liked best about Use Your Power of Command was its generous discussions of the various kinds of spiritual entities an intuitive, empathic and/or highly sensitive person might encounter, which come with clear recommendations regarding effective ways to communicate. These spiritual entities include Divine-Level Beings, Archangels, Angels, Ascended Masters, Ancestors and Ghosts. Rosetree also goes into detail about the perks and perils of dealing with fellow humans whose energy fields can, at times, be considered "sticky." She covers Auras, Psychic Bullies, Psychic Vampires, Cording and more.
Rosetree's diction is peppery and crisp; she talks about "energetic decluttering" and recommends having a spiritual skill set "manufactured directly by God." She presents the reader with five techniques for metaphysical purification and names them "Spiritual Cleansing Products." She adds that "Consciousness is the ultimate bountiful cleaner-upper" and recommends "Energy Healing Hygiene." This book could be quite useful to aficionados of the intuitional arts, to those who want to get more out of their experience here in "Earth School," and to readers interested in a retrospective written by someone who's had a fascinating career and who delivers the goods in a generous and chatty way. — S.FRIEDMAN