.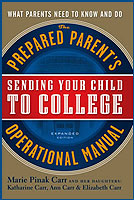 Sending Your Child to College
The Prepared Parent's Operational Manual
Expanded Edition
by Marie Pinak Carr and her daughters:
Katharine Carr, Ann Carr & Elizabeth Carr
Dicmar Publishing
ISBN 978-0933165168
224 pages, paperback
$15.95


This handbook covers most of what a parent or legal guardian needs to know after his or her teenager has been accepted to college, but before they actually go. Especially useful are sections recommending safety precautions such as getting a power of attorney in advance so parents and guardians will be able to talk to medical providers, and make decisions on their "legally adult" child's behalf should she or he become incapacitated. Also useful are warnings about how a college student can best protect himself or herself against the types of identity theft, burglary, and personal attack which can unfortunately also be a part of the college experience. The sections on what to bring to a dorm room, how to best organize and care for these possessions, and how a college student can effectively manage his or her own health, safety, money, and time are apt, helpful, and well worth reading.
In order to appeal to a larger market the authors might want to consider expanding this edition further to include more detailed support re: finding and getting scholarships, grants, and loans, and the advantages and disadvantages of each. There are numerous mentions of how to go about getting a student's material goods insured – items such as computers, sound equipment, and cars – and there are repeated lists of airline and car rental contact info. But many students and their families need guidance re: how to manage affording college at all. Still, all things considered, this book does the college-bound a wonderful service. — S.FRIEDMAN

Publishers: Click here for book submission information.