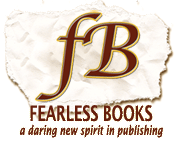 FEATURES INDEX • BOOKS • LITERARY SERVICES
Join our mailing list for a 20% discount on your first Fearless Books order!
---


veteran scribes share their sources of inspiration

* * * *

If you've been in the writers' biz for a while and can't shake that strange sinking feeling, no wonder: the National Writers Union reports that magazines' payments to freelance writers have declined by at least fifty percent in real dollars since the 1960s. Other cheery conclusions of a NWU report on self-employed writers' incomes include these notable facts:
While 61 percent of writers work full time, only 16 percent of freelance writers earn more than $30,000 a year;
Over half of writers must work outside the fields of prose and verse for cash;
Writers' incomes fall far below those of their equally-educated peers.
Given these daunting anti-incentives, one has to wonder why so many aspiring writers keep plugging away at their craft — and how they keep their spirits up. On this page Fearless Books offers essays by some literary veterans on how they manage to keep going.
Barbara Stahura: Moodle and Pray
Sheela Ardrian: Life as a Fluffy Pink Bunny
Cindy Appel: Inspired by Apprenticeship
SPECIAL NOTE: We accept original submissions of 500 words or less to this feature. If we choose your essay, we'll pay $25 for nonexclusive rights, and we'll post your picture and preferred link. You must use the e-mail address "info@fearlessbooks.com" for your Word submission, click through our SpamArrest filter if necessary, and be patient. We will try to render a decision about all submissions within this lifetime (ours, not necessarily yours)...
---
I began freelancing out of desperation: working as a corporate writer was literally killing me. I retired my little gray suit and pantyhose to leap off the cliff, praying that my freelancing wings would sprout in time. Amazingly, they did, and now, after nearly a decade, I can't imagine any other life or livelihood. Still, there are days when inspiration flies the coop, or when boredom seeps in, like nerve gas under the door, paralyzing the part of my brain where my best writing lives. Even worse are the times when writing itself doesn't satisfy me, and I wonder if I'm to head back out into the world again. But since the thought of a

real

job gives me hives, and because I truly do love writing, I've had to devise ways to keep going. Here are a few:

Associate with friendly writers
Escaping the (voluntary) solitary confinement of my work and joining together with other writers generates a collective energy that ignites sparks for me. After a long drought in writing personal essays and poems, I attended a class, Writing the Body, where I accessed many lost memories and excitedly generated a raft of ideas.

Keep a journal
I'd hate for anyone to read my journals. Not because of the secrets they contain but because the language is often trite or rambling, certainly not the many-times-revised writing that gets published. But within the dreck a few nuggets always glisten, waiting to be polished and shaped into new writing projects.

Read for heart nourishment
Well-written personal essays (like Barbara Kingsolver's) and literary memoir (like Mary Karr's) have become my reading passion. I might as well inject them directly into my bloodstream, they give me such a high.

Moodle
Brenda Ueland coined the term "moodle" in her 1938 book If You Want to Write: A Book about Art, Independence, and Spirit: "So you see, imagination needs moodling — long, inefficient, happy idling, dawdling and puttering." Too much pressure squelches imagination and creativity, so I allow myself some moodling time nearly every day: walking, daydreaming, playing with my cat, even lollygagging in bed, letting my thoughts drift lazily.

Several years ago I read an interview with Laura Esquivel, author of Like Water for Chocolate. She spoke about how every bit of writing she did changed the world. This wasn't a grandiose statement of her abilities as an author; it's a fact. The world is changed, simply because she created something that did not exist before. Who knows how it might affect a reader? So Esquivel offers a prayer at the beginning of each work day, asking that her writing have a beneficent effect.

Sometimes I come back to writing because I realize the difference it might make in a world desperate to know about goodness. When I write about Restorative Justice, for instance, and tell how crime victims and offenders make peace with one another and within themselves, I don't know who will read it. I only know that it could offer a sliver of hope to someone hungering for it. If nothing else, perhaps something I write will simply brighten someone's day or give them a moment of enjoyment. God knows we all need that.

* * * *

Barbara Stahura (http://www.clariticom.com) is a freelance writer in Tucson.

---

Sheela Ardrian:
Life as a Fluffy Pink Bunny

I'm sitting at my computer, minding other people's business — which is essentially what a reviewer does, after all — when up pops a fascinating little message from Da Boss. He wants to know "what keeps a writer going in the face of no money, no fame, no Pulitzers..." I can handle that. Now don't get me wrong; I haven't given up on the idea of big kaboodles of cash, swooning fans, or even a Pulitzer. But I'm also not leaving my life on hold in the meantime.

Every writer runs on different batteries, and most require more than one. Dead batteries are no more fun in a writer than they are in a vibrator. So you also want to keep some spares handy in case one runs out of oomph. I'll share a few of mine with you.
Sex — That got your attention, didn't it? Gets mine, too. One nifty thing about human beings is that we're wired to respond promptly and strongly to certain important cues. This is one of the top three, the others being food and danger, which aren't so much my thing. More noteworthy ideas about sex exist than anyone could explore in a lifetime, but hey, it's fun to try.
Absurdity — Do not underestimate the ability of totally bizarre things to rivet your attention to the wall, floor, or ceiling. Seek out the strange and unfamiliar. Jolt yourself out of a rut. Visit a neighborhood or country where you don't speak the language and can't recognize the cuisine. Browse the magazine rack for the most incomprehensible or disagreeable title you can find, then buy that and read the whole thing.
Power — When you were little, and the car died, and Daddy told you not to bang the ends of the jumper cables together, did you do it anyway? Yeah, me too. The sparks looked so cool. Wherever you find power, you find ideas. Power wants to flow, to jump, to spark. Meaningful exchanges of power always get things going, even if they don't turn out as intended. You just have to be careful not to blow your hands off.
Dogma — Some people have it in their heads that they know everything. You, of course, know better than that. You know that neither they nor you know everything, which is what makes life worth living. Fundamentalists exist in all disciplines, from religion to science to literature. Identify a weak point in their arguments, then watch them run around in circles until they fall over.
There you have it, a simple guide to inspiration, arguably the most complex topic in the universe. The right combination of humor and perseverance will get you past just about any obstacle. Just remember — for those of us who march to the beat of a fluffy pink drummer, the show is never over.

* * * *

Sheela Ardrian lives with her partner Dave in a white Victorian house in the middle of nowhere. She writes reviews, fiction, articles, poetry, and other fun stuff in gender studies, erotica, and other fields. And no, she hasn't given away all her secrets here. Her blog is Wordsmith's Forge.

---

Cindy Appel:
Inspired by Apprenticeship


It isn't totally unheard of in this high-tech age for a young person to be apprenticed to a skilled, master craftsman in order to learn a trade. Sometimes, however, the apprentice writer discovers her mentor only by looking in the mirror.

I didn't wake up one morning to become a published novelist without enlisting the aid of anyone else on the planet. Far be it for me to even suggest such a thing. Nor do I claim that I smote the ground with my computer mouse and out sprang a fully envisioned novel, free from cliché, stereotyped characters and unimaginative plotting without the benefit of sitting in a hundred and one writer's workshops or reading several dozen books on the topic. No, I did not. The point I'm trying to make here is simply this: In spite of some obvious outward differences, the writer's craft is remarkably similar to other crafts.

Think of carpentry. The true contrast between writing and carpentry is seen only in the art of revelation. The novice carpenter can tell immediately when she's bent a nail or shaved a little too much off a wobbly chair leg; however, the novice writer is rarely afforded such instantaneous feedback.

The apprentice writer sits down at her workbench (often known as a personal computer) and learns very much like the apprentice carpenter. They both learn by doing. An editor I met at a writer's convention the year before sends me a "bent nail" in the mail. She tells me if I wouldn't mind tweaking a bit here, shaving a bit there, then she might be interested in taking another look at my manuscript. Her warm and witty rejection letter serves as a certificate of my apprenticeship. I sigh, then make myself go back to hammering nails.

Another editor tells me my short piece for their publication is "wobbly." I saw and plane and hammer and re-glue and this time the "chair" stands firmly on it own feet. Success! Sometimes an Internet connected, self-apprenticed writer is fortunate to receive feedback in nanoseconds and days rather than weeks and months, but each and every setback in the craft further reinforces the lesson until "bent nails" eventually become a thing of the past. Well, almost.

For the self-apprenticeship of a writer is unique in one special way from all the others — it never ends. There is no graduation ceremony, no "golden hammer" award. There's only a file drawer full of shavings and splintered works begging to be constructed into new works of art, begging to be made whole. And, somehow, the apprentice writer never feels like she's become a master no matter how much she builds.

* * * *

Cindy Appel is a self-educated essayist, columnist, novelist and reviewer. You can read Cindy's monthly column as well as excerpts from her novels online at http://pages.sbcglobal.net/cynthianna . Currently she is busy at work on her next novel while another manuscript languishes somewhere on an editor's desk in New York City.

CLASSIC WORKS OF INSPIRATION FOR WRITERS:

        




All rights reserved by the individual authors.
To receive notice of every new FeatureLine article, join the free Fearless News mailing list.