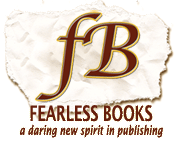 ADVANCE ORDER NOW FOR DELIVERY IN MARCH 2015!
THE BOOK OF PRACTICAL FAITH
20th Year Hardcover Edition

Four Steps to Useful Spirituality

by D. Patrick Miller

Fearless Books, 2015
Hardcover, 96 pages • ISBN 978-0-9888024-8-3
$19.95 ($16.95 direct from Fearless Books)


Is faith meant only for churchgoers? At a time when more and more people are identifying themselves as "spiritual but not religious," there is a need for a clear, non-dogmatic guide to finding one's own path of transformation.

Originally published in 1995 and changing the lives of thousands ever since, this concise and eloquent volume offers a vision of a "practical faith" that will benefit anyone regardless of their religious (or irreligious) beliefs. In four lucid steps — Releasing Guilt, Gathering Trust, Practicing Patience, and Learning Transcendence — D. Patrick Miller reveals a path to greater peace, perseverance, and dedication in the midst of everyday life.

NOW IN HARDBACK FOR THE FIRST TIME IN 20 YEARS.
This keepsake edition will retail for $19.95 in bookstores, but you can advance-order an autographed copy direct from Fearless Books for only $16.95 with FREE Media Mail shipping in the US (discounted shipping overseas). Scheduled for delivery in March 2015.

________________________________

What people are saying about The Book of Practical Faith:

Selected for inclusion in READER'S CATALOG (2nd edition)
as one of the best spiritual books in print
"Grab your highlighter pen before you sit down with this book.. . I highlighted an average of one quote per page, a lifetime record. If you know someone who agonizes over spiritual skepticism, do both of you a favor: give Miller's extraordinary book as a present. This is a timeless work of wisdom, destined to become a classic." — ROSE ROSETREE, Pathways Magazine

"Succinct and salutary... D. Patrick Miller's thoughtful treatment of faith clarifies why this spiritual practice is such an important part of the sacred adventure of life." — FREDERIC BRUSSAT, SpiritualityandPractice.com

"This book offers a gentle, disciplined approach to growth with subtle insight and compassion. Miller names the habitual obstacles that keep us small and opens up a way to greater love, faith, and freedom." — J. RUTH GENDLER, The Book of Qualities

This book has been taught in classes at Iyanla Vanzant's Inner Visions Institute for Spiritual Development.
CLICK HERE
to read excerpts from The Book of Practical Faith.

ADVANCE ORDER NOW FOR MARCH 2015 DELIVERY
The Book of Practical Faith
$16.95
includes free US Media Mail delivery within the US.
This price good only direct from Fearless Books. SRP: $19.95.
Ordering from outside the US?
$21.95
Price includes discounted delivery to addresses anywhere in the world.
Choose "Free Media Mail" option in the shopping cart.
___________________________________
Excerpts from
The Book of
Practical Faith
Faith is a more practical way to deal with everyday life than cynicism, toughness, or defensiveness. Faith can be sensible and savvy, and practicing it daily increases its usefulness and reliability. Yet faith is also tinged with mystery, for it is the connection to our unknown potential and the power of creation itself. Faith is the way out of misery, the way into self-knowledge, and the way toward a more fulfilling and effective life...

As an addiction or some other pattern of guilt begins to disintegrate, one may feel a distinct sense of loss. I've confronted this feeling a number of times: "Without this familiar habit, worry, or guilt, who will I be from now on?" As something fixed, heavy, and negative within the self dissolves, an unfamiliar sensation of openness, light, and permeability fills in. Such a change may bring about a feeling of queasiness, but that passes as one's sense of self eventually restabilizes — with a little more energy, optimism, and flexibility than before.

It is possible to have mistaken expectations, but it is impossible to be "too trusting." Real trust is deepened and informed by disappointment, just as spiritual vision is refined by disillusionment. Trust prepares us for the best by teaching us to prepare for a future far better than what we may merely be hoping for.

Patience is deciding in favor of attention rather than tension. Attending to the inner part of ourselves that knows timelessness, we can wait in the world of time and balance our hurried sense of self-interest with the timeless knowledge that all will be well — even when the "all" swallows us, as it inevitably will. Patience, then, is also humility, a surrender to the transcendent. Patience is the rhythm of faith.

Have you ever gazed at a clear sky long enough to realize that you are not looking at a huge blue screen but peering into the infinite? Have you ever watched a large old tree long enough to sense a bit of its incomprehensible might and balance, as it holds up its lengthy limbs toward the warmth of a vastly distant burning star? Have you ever gazed at your hand until it seemed a total mystery? In these and countless other transcendental, easily accessible experiences lies the practical heart of mysticism.... To admit that we are surrounded by mystery is to recognize ourselves. To learn transcendence is to unlearn the miserable notion that we are alone.

When we know there is nothing missing within ourselves, we are truly at home in a world that may have felt like a strange and hostile territory before. It is a practical faith that delivers us to this sense of being at home — and it is a practical faith that can help us carry that home within us no matter what happens, and regardless of wherever we are led to serve during our stay on earth.

ORDER NOW
---