Advance Copies Available...
Order Yours Now
the heart-rending true story of an American family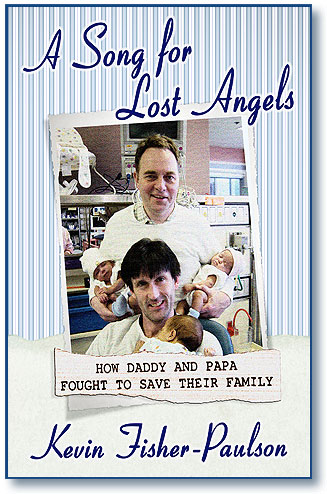 What makes a family?
And what are the real "family values" that can keep parents and children whole and healthy? In A Song for Lost Angels, San Francisco writer Kevin Fisher-Paulson answers these questions by telling the intimate history of a family of two men plus triplets that came together suddenly one day, and thrived for a year before being torn apart by groundless prejudice. And he tells this riveting story with grace, dignity, and a surprisingly generous dose of humor.

"After a week of not sleeping, Papa and I got into the routine of baby care: feed the baby, burp the baby, change the baby, put the baby to bed, wash baby's clothes, rinse out baby's bottle, and make more formula, just about in time to start feeding the baby. Oh, and that process was in duplicate. In fact it was in duplicate with a third kid in the hospital, across the bay. I often found that I was still in my bathrobe at three o'clock in the afternoon. The witty gay couple with lots of time for canapés and cocktails had quickly turned into two sleep-deprived, middle-aged men."
Fearless Books is proud to announce advance sales for a compelling memoir that takes the discussion of gay marriage in America to the next level, where the rights and struggles of gay-parented families can be openly recognized. As Fearless founder D. Patrick Miller writes in the Publisher's Preface, "my first rule for effective memoirs is 'It's not about you' — meaning that a personal history must connect so well with readers that they feel it's about them. On that score, Kevin's book is about a great many potential readers: gay spouses, anyone who has dealt with the foster/adoption system, anyone who has confronted overt discrimination, parents of every description, and even those who live in thrall to their dogs."
Officially releasing in January 2014, the first advance copies of A Song for Lost Angels are off the press — and you can order one now with free Media Mail shipping in the US, and discounted airmail shipping overseas. Read the first chapter and order one of the first copies of this soon-to-be-historic story for yourself.
__________________________________________
Now off the press!
The Classic Practical Guide to Meditation
Fearless Books is pleased to announce a new print edition of MIND SCIENCE: Meditation Training for Practical People by Charles T. Tart, Ph.D., one of the world's leading researchers of consciousness.

The record of a day of meditation instruction with spirited questions from a rationally-minded audience, MIND SCIENCE achieves what most books on meditation rarely do: It's actually fun to read, and it imparts much useful information without religious or mystical overtones.

Bringing a great deal of knowledge to bear on the subject while not pretending to be a guru, Dr. Tart tackles real questions that come up in meditation practice, such as: How do you keep your mind from wandering? What do you do about sensations of pain during sitting? How do you deal with too much thinking? and many more. And he answers them with common sense, care, and compassion.
______________________________________________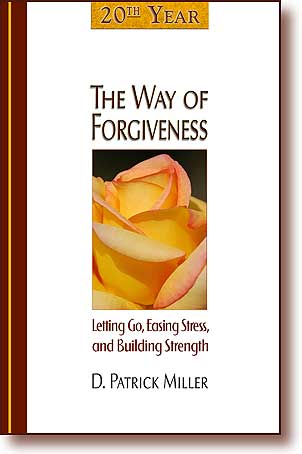 Help write a new chapter in the remarkable saga of
"a little book of forgiveness"

"A wise and wonderful book now celebrating its 20th birthday, and just as relevant today."— WALLY LAMB, novelist
In early 2014, Fearless Books will release the 20th Year Edition of THE WAY OF FORGIVENESS, originally published in 1994 as "A Little Book of Forgiveness." From now until January 15, you can contribute toward our $50,000 crowd-funding campaign to help this well-loved and transformative book reach many new readers.

Click here to watch a brief message from author & publisher D. Patrick Miller …

and then read a revealing story of mainstream vs. independent publishing that isn't over yet…

SUPPORTING INDEPENDENT BOOKSTORES SINCE 1998



THE FEARLESS SITE HAS WELCOMED
VISITORS SINCE DECEMBER 1, 2012