_____________________________________
ORDER NOW!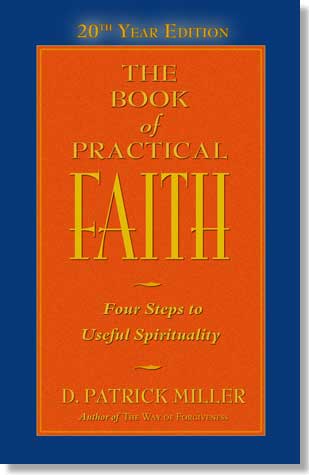 THE BOOK OF PRACTICAL FAITH
20th Year Hardcover Edition

by D. Patrick Miller

Is faith meant only for churchgoers? At a time when more and more people are identifying themselves as "spiritual but not religious," there is a need for a clear, non-dogmatic guide to finding one's own path of transformation.
Originally published in 1995 and changing the lives of thousands ever since, this concise and eloquent volume offers a vision of a "practical faith" that will benefit anyone regardless of their religious (or irreligious) beliefs. In four lucid steps — Releasing Guilt, Gathering Trust, Practicing Patience, and Learning Transcendence — D. Patrick Miller reveals a path to greater peace, perseverance, and dedication in the midst of everyday life.
NOW IN HARDBACK FOR THE FIRST TIME IN 20 YEARS.
This keepsake edition will retail for $19.95 in bookstores, but you can order an autographed copy direct from Fearless Books for only $16.95 with FREE Media Mail shipping in the US (discounted shipping overseas).
__________________________________________________
THE MIRACLE SCHOOL OF MYSTICISM PRESENTS

A Course in Letting Go:
The Forgiveness Intensive
with D. Patrick Miller
Start this popular online course now and
experience six weeks of intense and productive change.
Is there anything going on in your life that just wears you out? A thankless job, a chronic illness, a troubled relationship? Have you gone over and over this situation or circumstance without finding a solution or a way out? When a problem resists solving, it's often because we have unknowingly limited the range of possible solutions. That happens because we have looked at the problem in the same way for a long time.

Forgiveness begins with the willingness to look at any difficult circumstance of your life in a new way. Forgiveness is not about letting anyone off the hook for a mistake, insult, or crime. Nor is it about trying to forget something that bothers you. In fact, forgiveness may first require that you look more deeply at whatever is bothering you, because looking more deeply at something in particular will be the first step into seeing everything differently. And seeing everything differently is the way of forgiveness.

The Miracle School of Mysticism now offers its popular "Forgiveness Intensive" on an ongoing basis. CLICK HERE FOR MORE INFORMATION.